The Chronicle of the Third World Encounter on Terraced Landscapes held in Italy during October 2016 can be downloaded clicking here, thanks to the work of Mr. Tillmann, President of the International Terraced Landscapes Alliance (the document is in Spanish language). You can also check the website of the World Encounterand other pages on this site describing the event. Here below you can see the "Manifesto" drawn at the end of the international congress.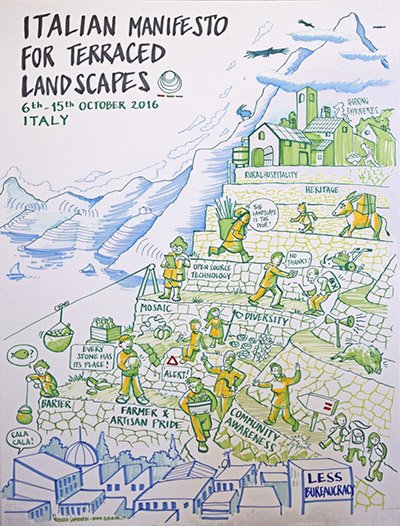 Here is how the Chronicle begins:
"La preparación y el acompañamiento del Tercer Encuentro Mundial de Terrazas que el Comité ITLA de Italia organizó del 6 al 15 de octubre 2016 ha sido para mi un viaje de ahondar amistades y descubrir iniciativas e ideas de compromiso con las terrazas de las montañas y costas de Italia. Han sido 5 años de preparación intensiva visitando los activistas y guardianes de terrazas en Liguria, en el Val di Cembra en el Trentino, la Lessinia y Valpolicella cerca de Verona, el lago di Garda, Lavagna y Valtellina, con experiencias alentadoras de acción local en defensa del campesinado.!"