From 11th to 15th of November 2010 the First Terraced Landscapes World Conference took place in Yunnan (China). The event gathered people from all over the world to bring together knowledge and operative perspectives about the terraced landscapes. The ALPTER Project was among the participants, with its representatives from Venetian Regional Government (I) and from University of Ljubljiana (SLO).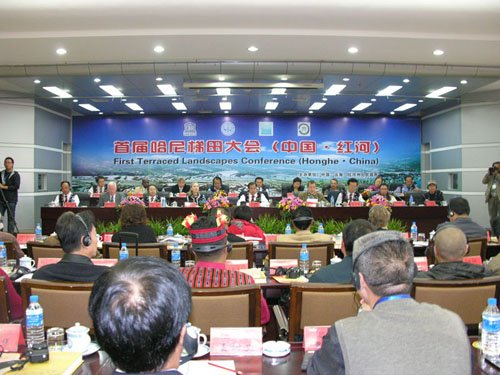 Among many fine contributions, the 'Key-note speech' of prof. Du Guerny draw a scientific and strategic framework about the territorial evolution of terraced landscapes in the Northern Mediterranean area, from the past conditions through the present time, down to future perspectives. In making his survey of the state-of-the-art for strategic researches in this field, he quoted also the ALPTER project for its contribution.
Here below it is available for download prof. Du Guerny paper, along with the ALPTER presentation of dr.Franco Alberti from Venetian Region and an abstract of the contribution of prof.Lucija Azman from University of Ljubljiana. Clicking here it is possible to access a photo gallery of the event, while is also still available the First World Conference on Terraced Landscapes web-site.
The next World Conference on terraces is scheduled for 2013 in Peru, we'll give further information as soon as we get them...