The 11th International Congress on Dry-Stone took place from 7th to 9th of November 2008 in Locorotondo (Bari, Italy). The ALPTER project could not miss this event: it is an international convention gathering people every two years from all Europe to make the picture of the activitities going on with regard to dry stone building.
The congress and all its satellite events were organized by the International Society for the Study of Dry Stone, lead by the Italian represantive, Arch. Dragone. The participants were hosted near an ancient noble Villa surrounded by the 'Itria Valley' a plain where are scattered the 'Trulli', typical buildings of Apulia characterised by their dry-stone conical cover.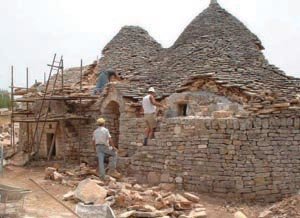 The participation to the congress gave the opportunity to the ALPTER team to consolidate old-time contacts and amities with organizations and groups committed to the maintenance of terraces and other typical stone structures, coming from France and Switzerland, from Spain and the UK. The Secretary of the SPS, Ada Hameau, and its President, Antonio Alomar, with other international experts supervised the two congress panels, which treated with dry-stone building typologies and to their characters od sustainability.
The participants, beside presenting their most relevant works of the last years, exchanged their points of view and the publications that each of them realized locally, achieving a interesting panorama of the many activities carried out all over Europe. In the end, the participants said goobye each other, looking forward to the next Congress, which will take place in Cumbria, in the Lake District, in 2010.
Here below You can can find a link to the Congress official web page, the Program of the Congress and the presentation of the ALPTER Project.